Futurebuild is the biggest built environment event where brands of all sizes can share their innovations, from products to processes and solutions, with over 27,000 influencers and shapers.
Shire is delighted to announce that we have been shortlisted for Futurebuild's Big Innovation award at this year's event.
Futurebuild brings the most important people in the industry together around the things that really matter to them through agenda-setting conferences and industry-leading keynote stages. This world-class knowledge programme, alongside the exhibition of innovative and inspiring brands, creates an unmissable experience. Futurebuild brings senior professionals from across the built environment together and aims to drive real change.
FutureBuild's Big Innovation Pitch gives innovative product manufacturers an opportunity to put forward radical solutions to Futurebuild's six key challenges before one is crowned champion. This is the industry's largest callout for innovation to date and identifies novel new approaches to some of the biggest challenges facing us all.
We submitted our innovative RootBase foundation system to be considered and we have now been shortlisted to present our product as part of Futurebuild's Big Innovation Pitch. 
RootBase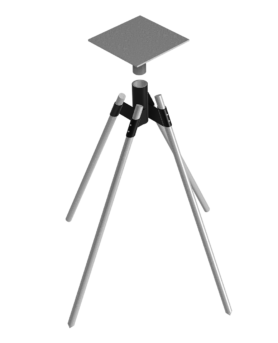 RootBase has been designed to replace the need for traditional concrete foundations. Concrete is the most commonly used material for foundations of all shapes and sizes and we found that companies and individuals were looking for a way to reduce the cost and impact of using concrete for both project efficiency and environmental concerns.
As structural engineers, we found a requirement for a product that provided more support than a surface-mounted solution, particularly in less than perfect ground conditions, while being less expensive than a piled system.
We also came across a number of applications where the substructure would be relocated without leaving an impact on the site such as when temporary buildings are deployed.
How RootBase Works
RootBase, an innovative concrete-free structural foundation system uses a small steel 'frame' and ground anchors. It is removable, reusable, recyclable and uses less raw materials than equivalent concrete bases to achieve the same or better performance in terms of load capacity. 
RootBase is quick to install, requires no soil excavation and has an instant load capacity, therefore, reducing project timescales. RootBase foundations can be classified as permanent or temporary. Each base can be installed in 15 minutes and provides a load capacity of up to 15 tonnes each. 
For permanent structures, each base is designed with a lifespan of up to 60 years and is designed, installed and comes complete with structural calculations to suit Building Control requirements. For temporary structures, each base is also removable and reusable. Installation and removal leaves the ground in its original state. At end-of-life, the base is removable and can be recycled at one of the many steel recycling facilities across the UK.
Due to its lightweight and innovative design, a RootBase foundation system improves safety, is better for the environment and improves efficiency.
Futurebuild Exhibition
We are excited to have the opportunity to exhibit RootBase to other like-minded individuals at the Futurebase exhibition at Excel, London this march. We hope to see some of you there.
Shire
For more information about RootBase foundation systems, or any of the other products and services Shire has to offer, please feel free to give us a call on +44 (0)1527 579933 or send an email to engineers@shire-uk.com.