We'd like to say a big thankyou to everyone who entered our Christmas Beatles Competition! We had lots of fun looking through all the entries. Most of you hit the nail on the head with your entries and some of you even found some Beatles references that we didn't intend to be there!
We put all the correct entries into a hat and drew a winner at random.
And the Winner is…
Congratulations,Maureen from Sedgwick!
Maureen said, "Loved your email – very entertaining and smart! And also made me read the whole email!". We're glad that our winner enjoyed taking part and we hope the rest of you did too.
We'd also like to offer a big congratulations to Caitriona Pearsall, who had the highest score of all the Shire Staff entries.
We hope 2021 is off to a good start for everyone! We'll catch up with you soon with some more news from Shire.
Check Your Answers
If you want to check your answers, we've highlighted them in green below (and you'll find the 3 bonus points highlighted in grey):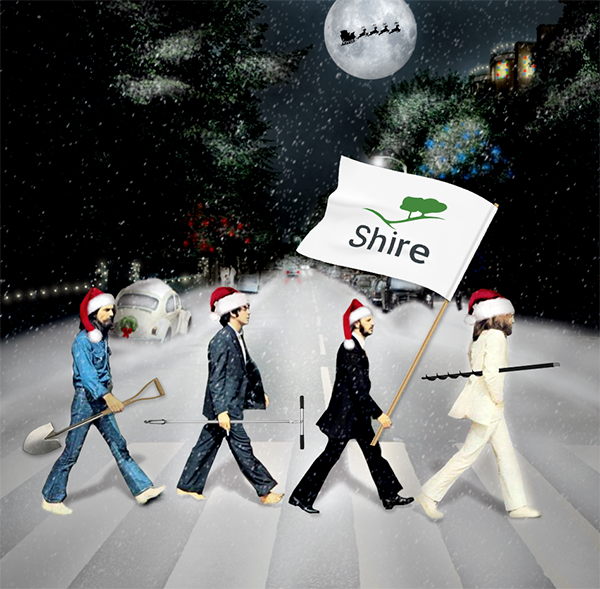 What a Year!
Well, it's been a long and winding road, but we have finally made it to the end of the year! We'd like to take this opportunity to thank you for your continued support throughout the last year and wish you a very Merry Christmas. Things seem to be getting better and, hopefully, we can all get back to normal soon but for now, after a helter skelter of a year, it's time to forget yer blues and come together with family and friends (of course, following whatever guidelines are in place) to enjoy some merriment.
Like every other business in the UK, we were forced to adapt to new ways of working and were constantly being told "you can't do that" but thanks to the hard work and dedication of our teams, many of them working 8 days a week, we have been able to continue to provide most of our services.
Despite everything going on, there have been many positive parts of the year for Shire. Our RootBase concrete-free foundation system was nominated as a finalist in the Equipment Innovation category as part this year's GE Awards, which for obvious reasons took place virtually, as well as being nominated as a finalist in the Big Think Innovation Expo at the Futurebuild Exhibition. We also took part in The Subsidence Forum's Training Webinar where we demonstrated a day in the life of a Geotechnical engineer to show how different soil samples are collected.
For more news on what we've been up to and information about our services, visit shire-uk.com
Helping Homeless Young People Get Back into Work
At Christmas, we normally send our clients something fun to spread the Christmas cheer and say thank you. However, it seems out of step with the mood of the country to send a Christmas gift to offices this year, so we have decided to donate the gift budget to St Basils, who are focussed on supporting homeless young people.
St Basils supports those young people in getting into employment and learning how to look after themselves. Our donation will provide accommodation for twenty young people in Bromsgrove to help bridge the gap between starting work and receiving their first pay cheque.
If you want to learn more about St Basils or make a personal donation, please visit their website.
Competition Time
You may have noticed some references to Beatles songs throughout this email. There are a total of 12. If you can find them all, let it be known by naming all 12 songs via email to christmas@shire-uk.com for the chance to win a framed signed Beatles Abbey Road photo print and mini gold vinyl cd.
All correct entries will be put into a hat and a winner will be drawn on 8th January 2021.
Merry Christmas
This year we are closing our offices a little earlier than usual for the festive period – we will be closing at 1pm on Friday 18th December and will return on Monday 4th January 2021.
All together now – "We Wish you a Merry Christmas and a Happy New Year!"
Best wishes,
Simon Crook, Richard Hartshorne, Ron Mace & the Team at Shire
P.S. I love you.
Answers
The Long and Winding Road
Getting Better
Get Back
Helter Skelter
Yer Blues
Come Together
You Can't Do That
8 Days a Week
A Day in the Life
Let it Be
All Together Now
P.S. I Love You
Bonus Points
Something
The End
Help